Take a break from the road at a driver reviver pit stop
Victorian Driver Reviver locations operate throughout the year during major public holiday long weekends, such as Australia Day, Labour Day, Easter, ANZAC Day, Queen's Birthday, Grand Final, Melbourne Cup and the Christmas, New Year period.
If you're heading off on a road trip for the upcoming long weekend, we urge you to rest up the night before, give plenty of time to get to your destination, travel at safe speeds and stop every 2 hours to swap drivers or take a rest.
Stop and revive at one of the Driver Reviver SES Pit Stops where you will find:
Barista coffee
A giant bed
Jenga
Handball
Merchandise give aways
Colouring in for the kids
Sausage sizzle (run by SES)
---
SES pit stop locations for Queen's birthday long weekend:
BALMATTUM, Hume Hwy North bound. Cnr Hume Fwy & Giffin Road
Friday 9th June 12.30-6.30pm
Saturday 10th June 9am - 1pm
STRATFORD, Memorial Park, Princes Hwy
BACCHUS MARSH Marrimu, Bacchus Marsh Road
Monday 12th June 10am-7pm
MARONG Calder Highway alternate, 6-10 High St Marong
Monday 12th June 10am-5pm
BALMATTUM Hume Hwy South Bound, Cnr Hume Fwy & Giffin Rd
Monday 12th June 10am-4pm
DIMBOOLA Lochiel Wayside Stop, Western Highway
Monday 12th June 12pm-6pm
(Regular driver reviver sites also highlighted in orange on map)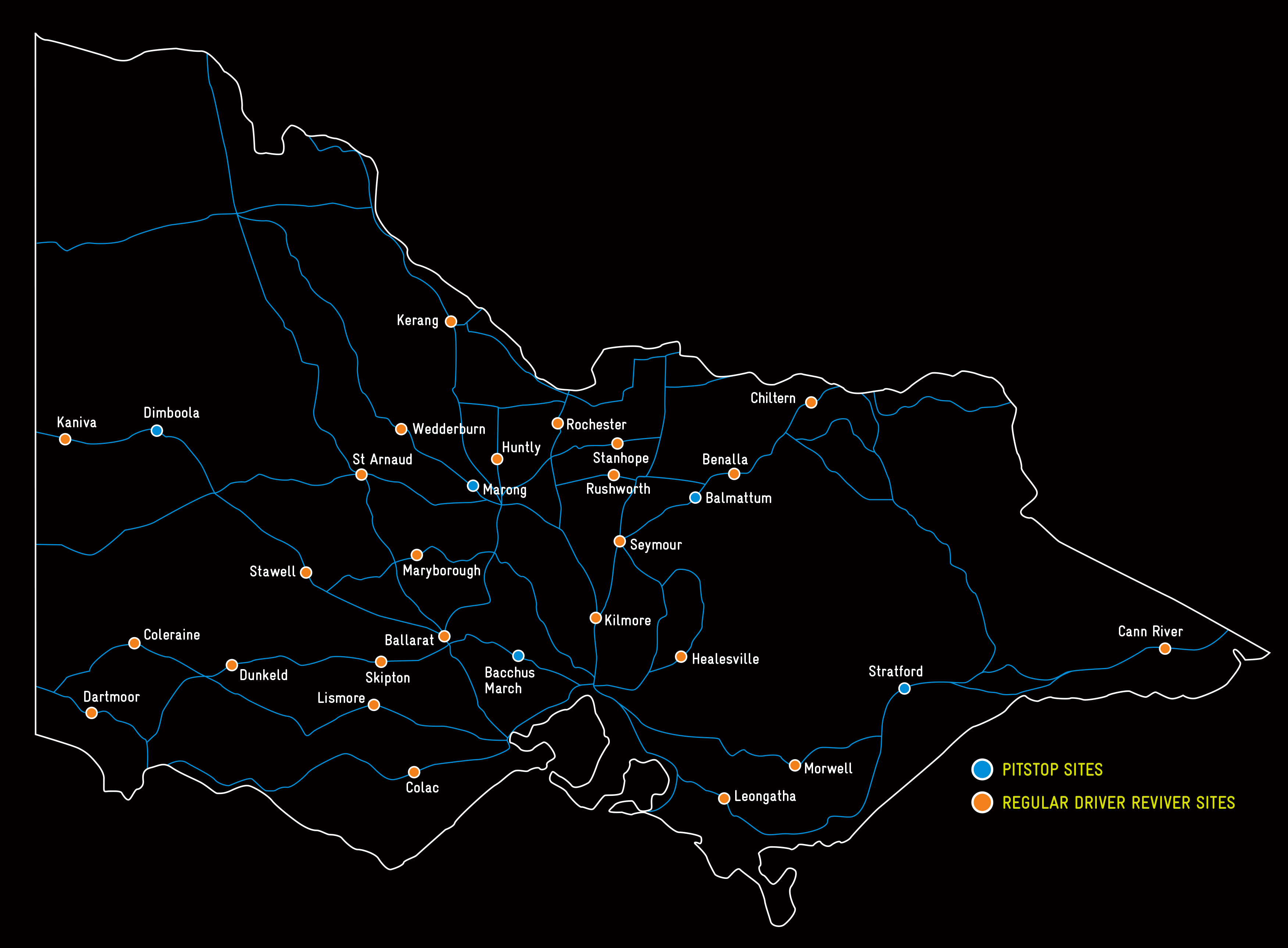 ---
Drowsy driving
If you're driving somewhere this weekend, be mindful that you may be tired after the working week and factor in driving breaks. Drowsiness is a symptom of fatigue which contributes to 16-20% of all crashes. It affects our reaction time and concentration, and there is the very real risk of falling asleep at the wheel.
Sleep-inducing chemicals build up in our brains and eventually tip over, causing us to fall asleep. We have no control over when and where this can happen, and the feeling of fatigue can take over quickly.
Find out more about the science of sleep.
Tips for long road trips
Plan your trip and aim to get enough quality sleep before driving – regardless of whether the trip is a long or short one. A healthy adult needs on average between 7-9 hours of sleep to function properly.
If you're already on the road, and you feel drowsy, the best option is to pull over safely and have a 15-minute power nap.
Watch out for signs of fatigue when driving, such as:
Trouble remembering the last few kilometres driven; missing exits or traffic signs
Drifting from your lane, tailgating, hitting a shoulder rumble strip or difficulty maintaining a consistent, correct speed
Seeking stimulation to remain awake, like winding down the window or turning up the radio
Feeling sleepy
Frequent blinking, heavy eyelids or slow blinking
Eyes closing or going out of focus
Yawning, feeling restless and rubbing your eyes
Trouble keeping your head up or head nodding is a sign of severe drowsiness
The tendency to doze off when not active for a while; for example, when waiting in your car at the lights